The UK has announced new carry-on restrictions banning laptops on certain passenger flights.
The British government has announced a cabin baggage ban on laptops on direct passenger flights to the UK from Turkey, Lebanon, Jordan, Egypt, Tunisia and Saudi Arabia.
The ban, which also applies to tablets and DVD players, follows a similar US move affecting eight countries.
Downing Street said the decision followed discussions relating to air security and was "necessary, effective and proportionate".
The ban applies to any device larger than 16cm long, 9.3cm wide or 1.5cm deep. Whilst it does include smartphones, most fall within these limits.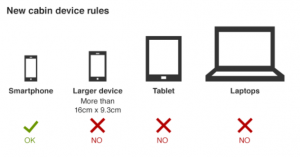 Which airlines are affected?
Six UK carriers – British Airways, Easyjet, Jet2, Monarch, Thomas Cook, Thomson
Eight overseas carriers – Turkish Airlines, Pegasus Airways, Atlas-Global Airlines, Middle East Airlines, Egyptair, Royal Jordanian, Tunis Air, Saudia Arabian Airlines
Whilst these are the current guidelines, please don't hesitate to contact a member of our corporate team for clarification and the latest information. You can call us on 0191 285 0346 or send an email to business@travelb.co.uk.