'Mirror, mirror…'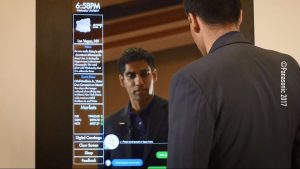 I'm sure we've all talked to the mirror at one point or another; a pep talk before a big meeting; a dressing down after a big mistake; a confidence-boosting compliment before a big date.
I'm equally sure that none of us has ever expected the mirror to talk back.
To think of a talking mirror your first thought might be of the 1937 Disney classic, Snow White and the Seven Dwarfs, in which the Evil Queen utters the famous line:
''Magic mirror, on the wall – who is the fairest one of all?"
But Snow White is just that – a fairy tale. We all know that there's no such thing as a talking mirror!
Or is there?
Fast forward 80 years and that's exactly what hotel guests can expect as IBM and Panasonic unveil their new "digital concierge" solution for the hotel industry.
In the story of Snow White, the Evil Queen's mirror contains the enslaved soul of a man and it is this spirit which responds to the Queen's perpetual query.
Enslaved souls being rare commodities on the market these days, and perhaps a tad dark for the hotel industry, IBM have come up with a solution that is not entirely dissimilar to the legendary concept.
According to Travel Daily Media, IBM will incorporate a talking artificial intelligence, who goes by the name of Watson, into a digital mirror.
Watson will be able to listen and respond to hotel guests' requests, enabling them to use the mirror to obtain information and services, such as requesting room service, ordering transportation, and checking the weather.
This could be a fantastic innovation for those, admittedly rare, hotel users who travel without a smartphone, as well guests staying abroad who wish to avoid costly data charges.
Bruce Anderson, global managing director at IBM Electronics Industry, said that the new digital concierge would allow hotels to provide "highly personalised experiences and recommendations", which would help increase brand loyalty.
Of course, according to the story, the mirror belonging to the Evil Queen only ever received one question. Watson, on the other hand, is certain to receive much more varied enquiries.
It begs the question, what would you ask your mirror? And, perhaps more importantly, what would you hope to hear back?